Anceu Coliving isn't just a place. Anceu Coliving is a concept, a vision, and a thriving community that envisions a sustainable future for rural areas. In 2023, Anceu Coliving embarked on a remarkable journey, one filled with growth, innovation, and profound connections. This year unfolded as a testament to the power of Anceu community and the transformative potential of rural spaces.
Throughout these months, Anceu Coliving evolved beyond the bounds of a conventional living space. It became a canvas for artistic expression, a hub for knowledge exchange, and a focal point for sustainable living. As the world grappled with fast-paced urbanization, Anceu Coliving stood as a steadfast advocate for rural development.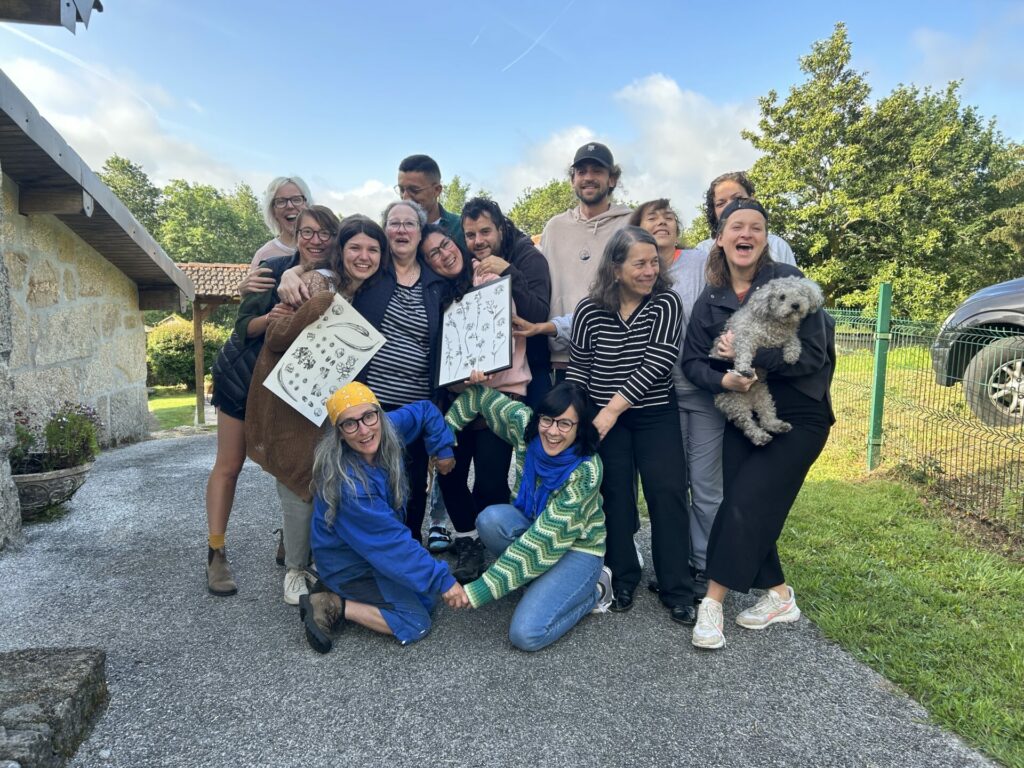 From Victor's engaging classes to Lavinia's heartwarming photo exhibition, every project was a brushstroke on the canvas of community. Mery Jablonska's design project paid homage to the region's heritage, and the collaboration between Cuco and Anis at the intersection of art and technology showcased the coliving space's innovative spirit. The creative writing workshops with Maria Cabrera and the documentary project led by Ari brought villagers and colivers together. That weaved narratives that celebrated the essence of Anceu. Lotte's textile mural, which depicted the region's rich history, added color and vibrancy to the community. Chano's comic creation, inspired by local stories and legends, became a visual narrative of the village's soul.
As 2023 drew to a close, Anceu Coliving continued to embrace its mission of revitalizing rural spaces, forging friendships, and leaving a lasting impact. This article delves into the heart of these initiatives, painting a picture of a community that thrives through creativity, connection, and shared dreams.
Fostering Anceu Community and Connection
In the picturesque village of Anceu, the year 2023 saw the blossoming of unique interactions that enriched both the Anceu Coliving community and the village itself. These remarkable connections were the result of a heartfelt commitment to bring people together, transcending geographical and cultural boundaries.
Residencies: A Catalyst for Bonding
Central to this year's journey were the Rural Hacker Residencies. A brainchild of Rural Hackers that brought individuals from around the world to contribute their talents to the community. These residencies became the conduit through which colivers and villagers came together in an inspiring exchange of knowledge and experiences.
Take the example of Lotte. Lotte's impact rippled through the village because of the Textile Mural project she spearheaded. Over 60 people, joined hands to create a stunning textile piece depicting the map of O Ramis. Through this collaborative endeavor, connections were forged that transcended art, uniting people in a shared vision for the village's future.
Victor's journey was equally transformative. Beginning as a Rural Hacker Resident in April, he embarked on a mission to bridge generations. He imparted digital literacy to older villagers, taught English to locals, and shared the Spanish language with colivers. Victor's dedication was so profound that he decided to make Anceu his permanent home. He's become a pillar of both Anceu Coliving and the village.
Cuco, known for his captivating murals, was another bridge between colivers and the local community. His artistic collaborations with Anis on an AI project were the seeds of something truly extraordinary. Cuco's journey with Anceu Coliving began in August 2022 when he painted his first mural. In March and August 2023, he continued to weave his magic across Anceu. He created two more vibrant murals that captivated both colivers and locals, one of them during Curiositech.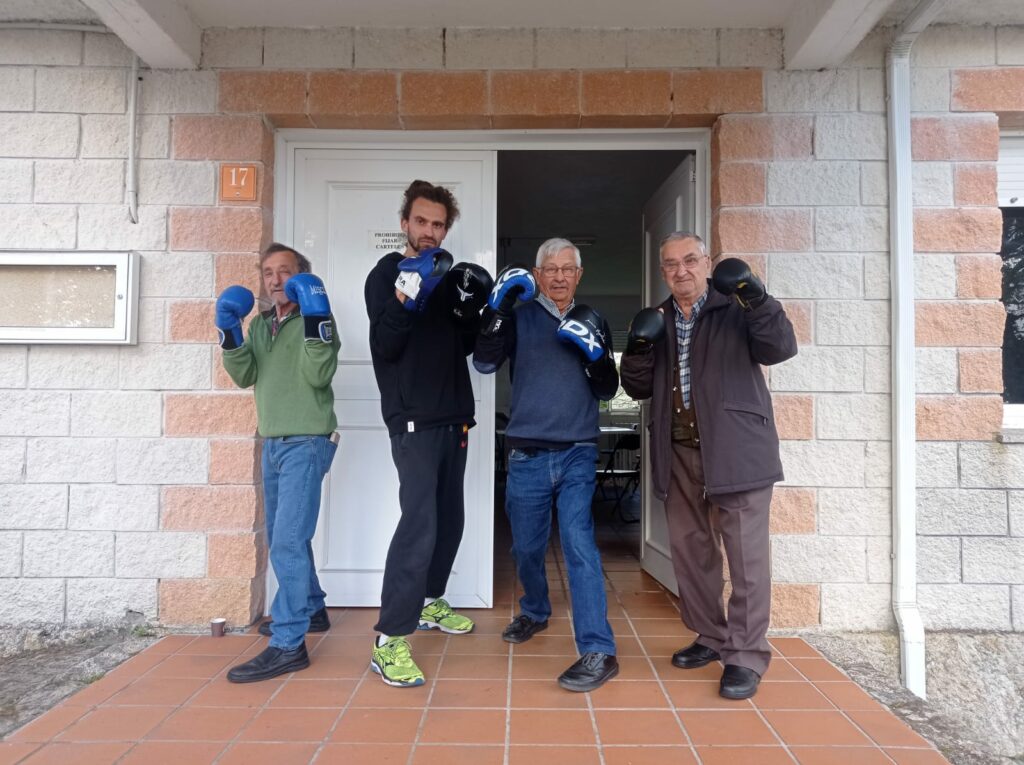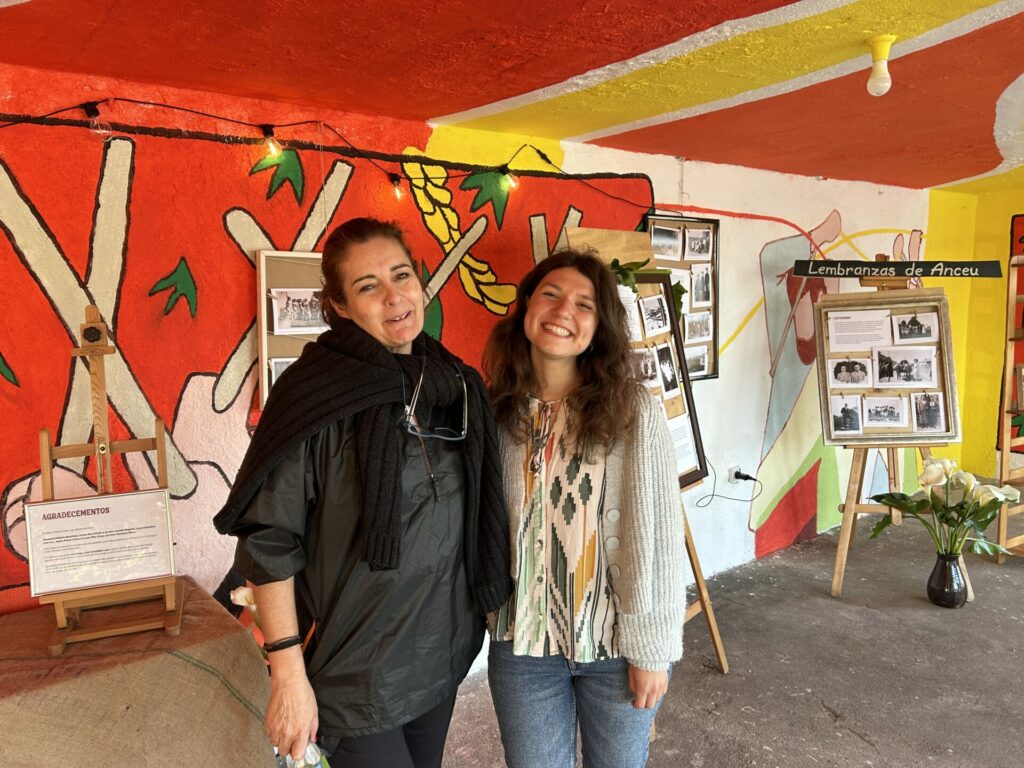 Local Challenges: A Shared Endeavor
The Break, a program designed to foster innovation and entrepreneurship, created a unique opportunity for interaction between local villagers and colivers. The Local Challenge Project, aptly named Bordando Historias, united local women with the breakers, European entrepreneurs on a month-long stay at Anceu Coliving. Together, they embarked on a journey to weave the stories of the village into a tapestry.
The result was not just a beautiful work of art but a profound expression of the village's history and culture. In addition, the group crafted a feminist manifesto, a testament to the empowerment and collaboration that define the spirit of Anceu.
In 2023, Anceu Coliving became a hub where connections flourished, bridging the gap between colivers from around the world and the warm-hearted villagers of Anceu. It's a testament to the power of shared experiences, creative collaborations, and a dedication to rural renewal.
Entre Culturas: A Culinary Fusion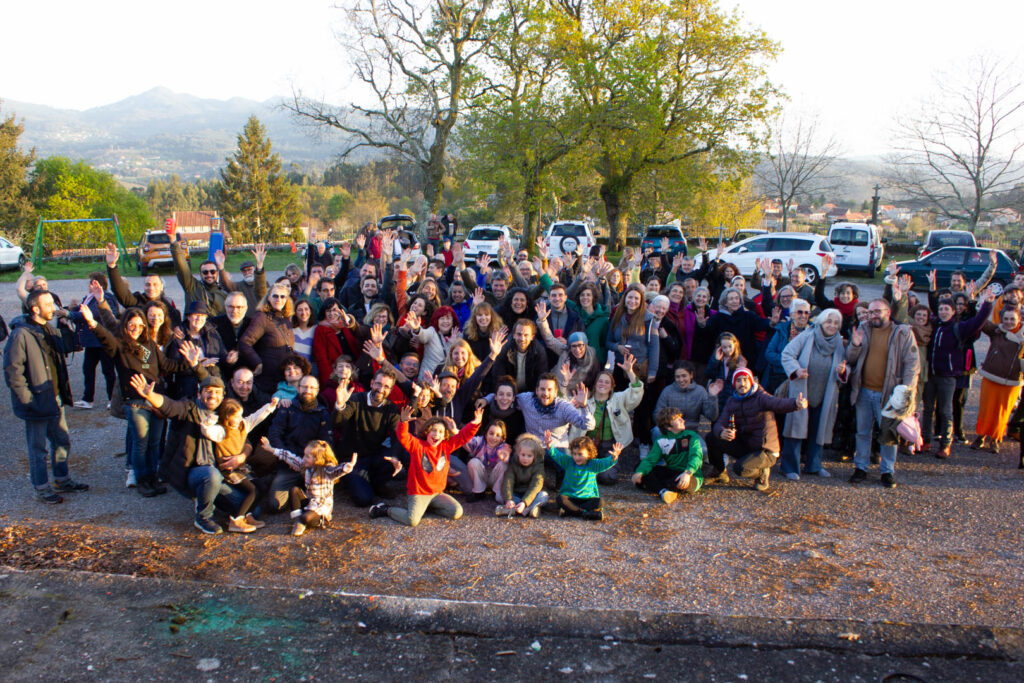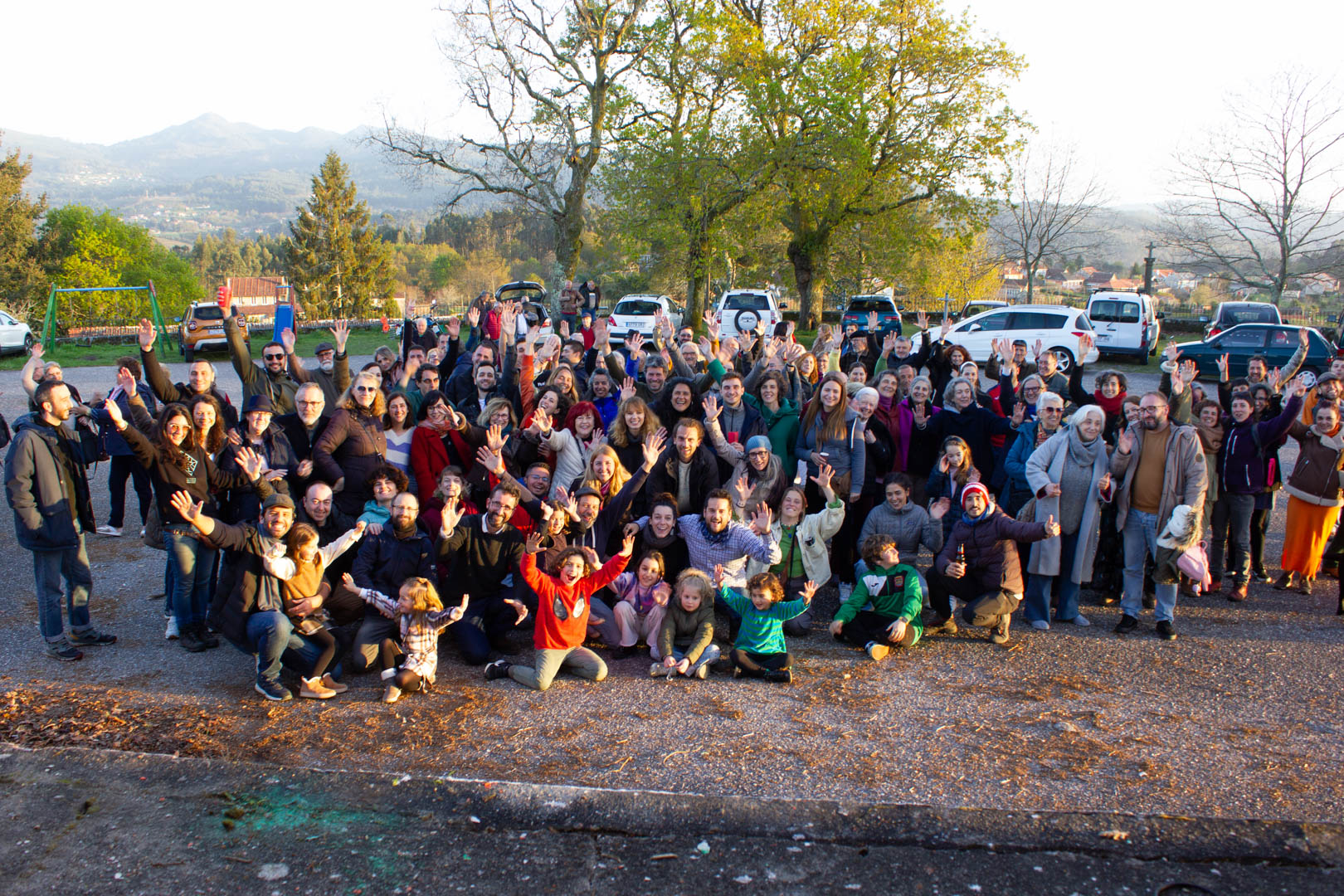 One of the cornerstones of community-building in Anceu Coliving is the Entre Culturas events. These gatherings, hosted at Casa do Pobo, transcend language barriers through the universal language of food. Locals bring their traditional dishes, sharing the flavors of Galicia with colivers who reciprocate with dishes from their homelands. It's a beautiful fusion of international and local cuisines, a reflection of the diverse tapestry of Anceu's community.
This culinary fusion doesn't just tantalize the taste buds; it weaves connections and strengthens the bond between colivers and villagers. Entre Culturas events serve as a reminder that sharing a meal can be a powerful tool for building friendships and fostering cultural understanding. The laughter, stories, and camaraderie shared around these tables echo our commitment to creating a vibrant, inclusive, and tightly-knit community in Anceu.
Innovation and Creativity at Anceu Community
Innovation and creativity are the lifeblood of rural revitalization. As a result, at Anceu Coliving, they are woven into the very fabric of our community. Our commitment to pushing what's possible in a small village like Anceu has led to projects that redefine rural living.
Cuco and Anis: Redefining Art with AI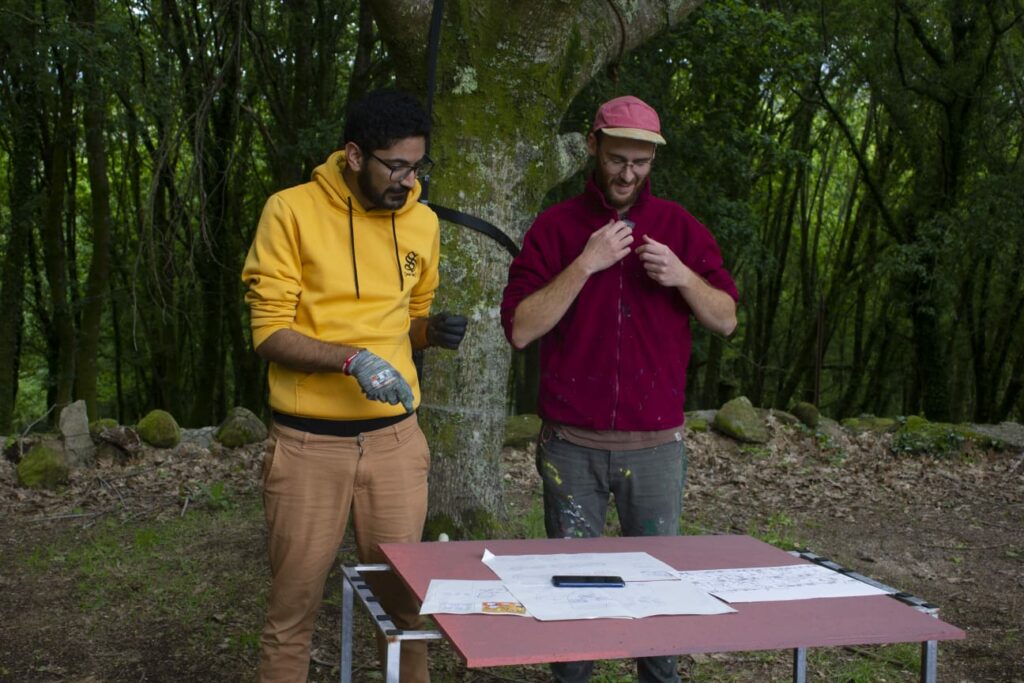 One example of this spirit is the collaboration between Cuco, our resident mural maestro, and Anis, an enthusiast of AI. Together, they embarked on a journey to create an AI trained to replicate Cuco's distinctive artistic style. It was a fusion of artistry and technology, in other words, a testament to the endless possibilities when creative minds converge.
The creative process behind this AI project was not hidden behind closed doors. Jules, a talented member of our community, documented every step of the journey. The premiere of the documentary, strategically scheduled during Anceu Fiestas, was a momentous occasion. More than 40 villagers gathered to witness the transformation from algorithms to art. It was a collective "aha" moment as Cuco and the villagers saw the AI's final pieces. It was an intersection of human and artificial creativity.
Projects Beyond the Ordinary
At Anceu Coliving, we understand the significance of projects that defy convention. Those projects that might seem out of place in a village of just 98 people. Because of that, these projects challenge the status quo, spark curiosity, and inspire innovation. Thus, we believe in creating opportunities for creativity that transcend geographic boundaries. We want to create a testament to the idea that rural areas can be hubs of artistic exploration.
But it's not just about pushing the boundaries; it's also about creating connections. Every endeavor we undertake, whether it's a collaborative mural or a creative workshop, is a bridge between colivers and locals. These projects foster a sense of unity, sparking conversations, and igniting a shared passion for rural revival.
In the rural landscape, innovation, and creativity are not just luxuries but necessities. They are the tools we use to reinvigorate communities and, thereupon, to attract new faces to depopulated areas. Thanks to that, we can ensure that rural living thrives in the 21st century. As we journey through Anceu Coliving in 2023, the spirit of innovation and creativity will continue to guide us.
Advocating for Rural Development and Sustainability
At Anceu Coliving, our commitment to rural development extends far beyond our village borders. Thus, we firmly believe in the power of coworking and coliving to rejuvenate rural areas. In fact, we're always just a call away to assist anyone looking to embark on a similar journey.
Our connections with like-minded spaces like Ruralco.live and Growth Coliving run deep. During Anceu Fiestas, they joined us in celebrating the vibrancy of rural life. All of a sudden, they became an integral part of Anceu community for a while. They contributed to Lotte's mesmerizing textile mural, immersed themselves in Jules' documentary on Cuco and Anis' AI project, and danced the night away alongside locals and colivers. Basically, it's a testament to the close-knit relationships we've built with other coliving spaces, united to revive rural areas.
Sustainability isn't just a buzzword; it's a way of life at Anceu Coliving. This commitment extended to recycling plastic, glass, and paper, reducing waste, and minimizing the ecological footprint. By giving food scraps to a local neighbor to feed their pigs. Anceu Coliving not only reduced food waste but also integrated with the locals. The dedication to sustainability is also reflected in the use of chemical-free cleaning products and washing machine products. These choices ensured a clean and healthy living environment for colivers while minimizing the impact on the ecosystem.
Embracing Community, Connection, and Rural Renewal
In the transformative year that was 2023, Anceu Coliving emerged as a beacon of innovation, creativity, and community engagement. The projects and residencies undertaken during this period have left an indelible mark, not just within our walls but across the entire village of Anceu.
As we reflect on 2023, it's clear that these initiatives weren't just about creating art or learning new skills; they were about forging connections. Additionally, the bonds formed between our colivers and the villagers grew stronger with each shared moment. Whether it was Lotte's textile mural that saw over 40 individuals coming together to create a masterpiece, Victor's digital literacy classes that transcended the boundaries of age and technology, or Cuco's art AI project that brought art and technology into harmony, these endeavors showcased the power of collaboration and creativity.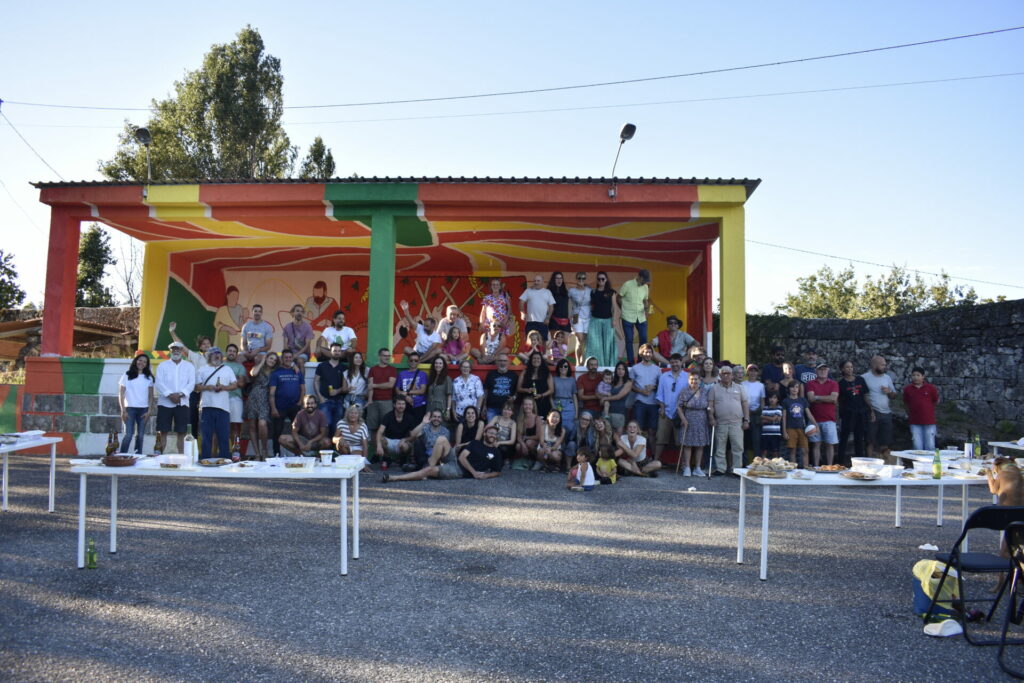 At the heart of Anceu Coliving is our unwavering commitment to rural revitalization. We believe that the fusion of creativity and community can breathe life into depopulated areas, and 2023 demonstrated this beautifully. Our advocacy for rural development isn't confined to our village alone; we're always ready to support and collaborate with like-minded individuals and spaces, fostering a network that extends far beyond Anceu's borders.
As we step into the future, we carry with us the memories, the connections, and the lessons learned in 2023. Anceu Coliving remains dedicated to its mission of reviving rural areas, one creative project, one shared meal, and one meaningful connection at a time. We embrace growth, celebrate connection, and continue our journey of rural renewal with hearts full of optimism and determination.