Entre Culturas Events – experiencing worldwide flavours and rhythms at Anceu Coliving!
Hey, our dear friends! 🥰 You already know that at Anceu Coliving, we love to connect cultures and bring people together. That's why we want to share how the "Entre Culturas" event was for us over the past year.
Autumn Edition – Migracode Event
Last fall, we held the first Entre Culturas event. It was part of Migracode, offering free coding courses to refugees in Europe. The event aimed to have Anceu Village locals share cultural traditions with others. They did this through food, music, and dance. Over 20 villagers brought dishes from around the world.
Entre Culturas displayed various traditional dishes from different countries. Anceu Village locals prepared these dishes. They gave insight into the village's culinary diversity and a chance to learn about other cultures. Community members cooked dishes from Poland, Greece, Sweden, and Cyprus. We shared stories and enjoyed learning about different cultures.
Overall, Entre Culturas was a great success, and we were proud to join. It let Anceu Village locals share their traditions with an international community. The event showcased the village's cultural diversity. We learned about global culinary traditions and shared our own experiences. It was a wonderful celebration of diversity and a symbol of cultural exchange power.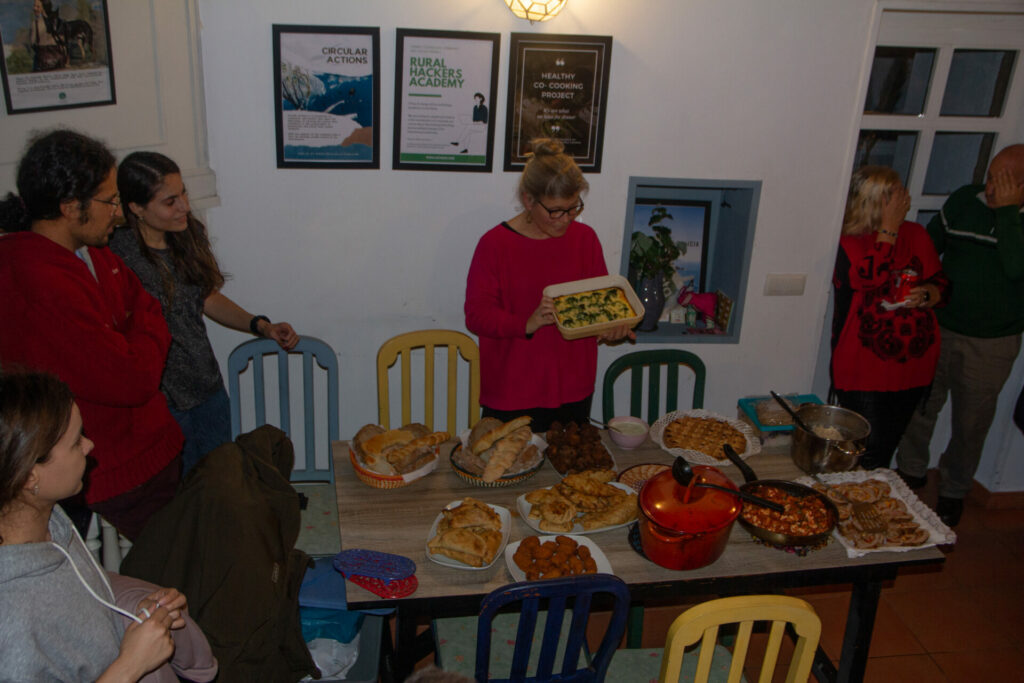 Spring Edition – Erasmus Project Curiositech
At the beginning of March, we hosted the "Entre Culturas" event again as part of the Erasmus Project – Curiositech. The event began an exciting nine-day journey for participants from Greece, Sweden, Malta, Italy, and Spain, who arrived at Anceu Coliving to share their cultural traditions with the local community.
Just like the previous event, we asked everyone to cook something traditional from their culture, and we were blown away by the diverse range of dishes. The food was excellent, from Greek moussaka to Italian pasta, Swedish sweets to Maltese rabbit stew.
The "Entre Culturas" event also featured an incredible musical performance by a local band. It was another fantastic opportunity to connect with people worldwide and learn about their cultures.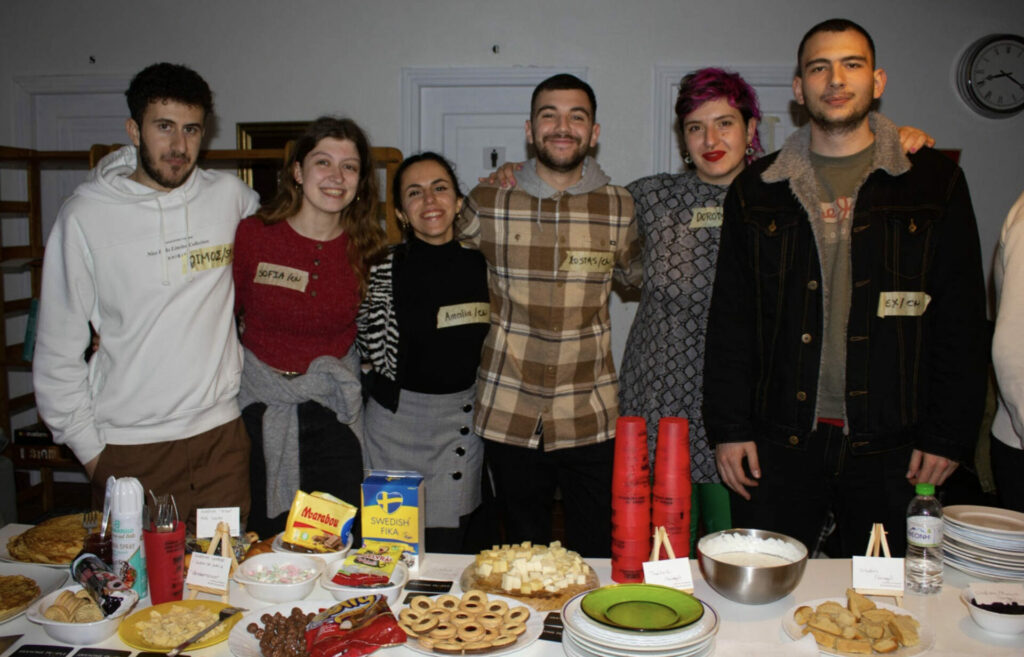 Spring Edition – Rural Hacking Project
The third 'Entre Culturas' Event at The ECHN Rural Hacking Workshop was a four-day event funded by the European Creative Hubs Network that brought together 24 members from creative hubs, coworkings, and colivings across Europe at Anceu Coliving. This inspiring and energizing experience sparked new ideas, perspectives, and possibilities for revitalizing rural areas through creative hubs, coliving, and coworking spaces throughout Europe.
By the afternoon of the third day featured a unique cultural exchange event – the third edition of Entre Culturas, held at Casa do Pobo. This gathering brought together ECHN participants and the local community to share food, music, and stories. Participants prepared recipes from their countries, while locals contributed dishes representing their region, country of origin, or countries they had emigrated from years ago.
How food brings people together
The food was amazing, with dishes from all over the world. The locals also shared their traditional Galician dishes, giving everyone a taste of the local cuisine. The event was a fantastic opportunity to connect with people from different backgrounds and learn about their cultures.
In the evening, we were treated to a concert by the Tambourine band Torreiros de Forzáns, showcasing Galician traditional music and dances. The Combo de Cuñas jazz band from a nearby village, which included Anceu Coliving's own Agustin, also delivered a lively performance. It was a great way to end the day and celebrate the diversity of cultures at the event.
Overall, the third edition of Entre Culturas was a huge success and added to the already amazing experience of the ECHN Rural Hacking Workshop. We are grateful for the opportunity to have hosted such a wonderful event and can't wait to see what the future holds for Anceu Coliving and the European Creative Hubs Network.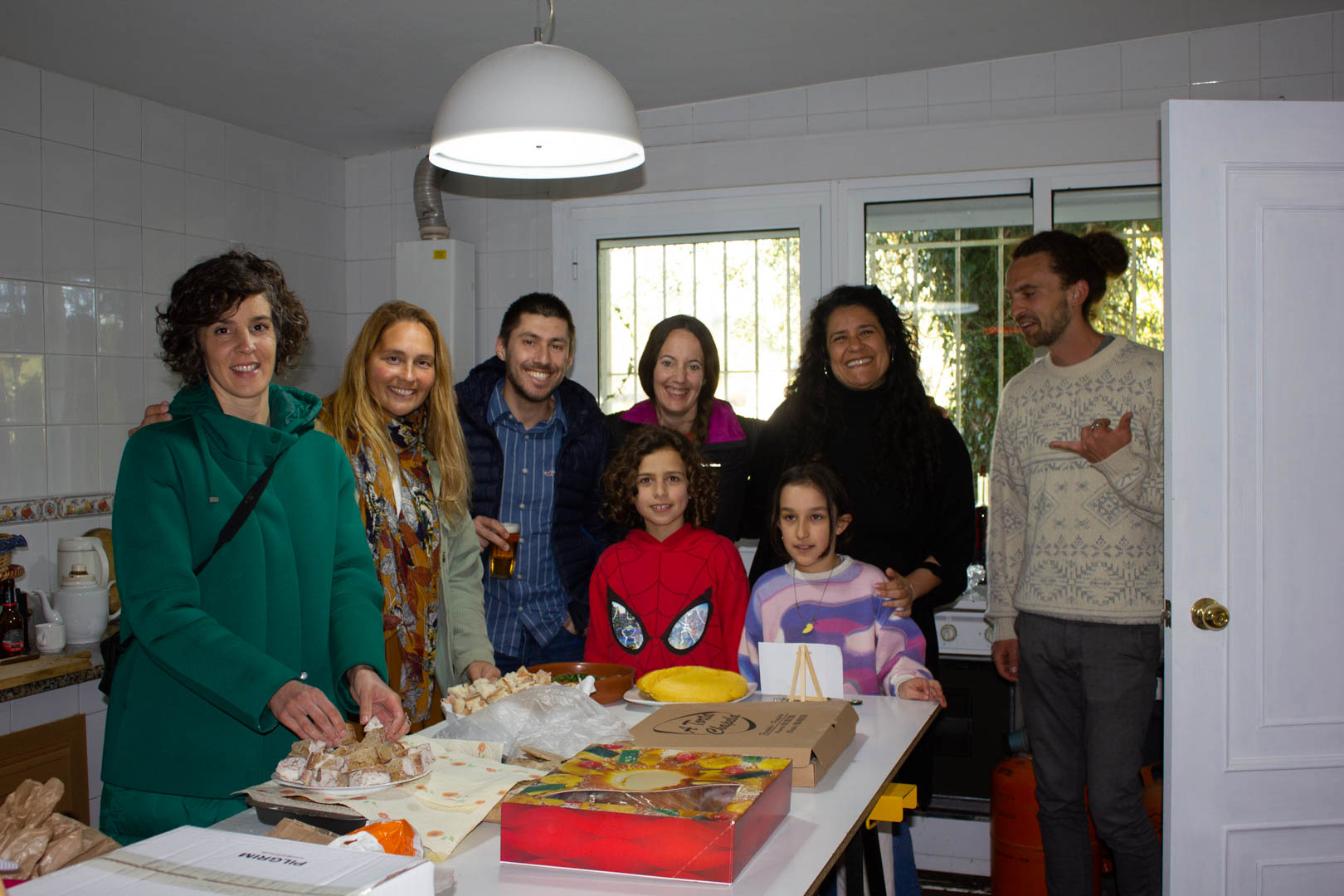 Embracing Diversity
The "Entre Culturas" events have been a cornerstone of Anceu Coliving's mission to connect cultures and unite people. These events have created unforgettable experiences throughout the past year, forging new friendships and deepening our understanding of the world. They have served as a powerful reminder of the beauty and diversity of humanity, showcasing the rich tapestry of traditions and stories that make us who we are.
The cultural exchanges through food, music, and dance transcended language barriers, allowing everyone to communicate and bond uniquely and profoundly. By opening our doors to the world, we have also opened our hearts and minds, creating an environment that fosters creativity, collaboration, and respect for one another.
As we move forward, we are excited to continue hosting and participating in "Entre Culturas" events and similar initiatives that embody the spirit of Anceu Coliving. We are dedicated to nurturing a global community that values cultural exchange, inclusivity, and understanding. Through these events, we hope to make a lasting positive impact on our village, the European Creative Hubs Network, and the world.
Thank you to everyone who has been a part of this journey so far, and we can't wait to see what the future holds for Anceu Coliving and our ever-growing family. Here's to many more adventures, connections, and unforgettable experiences!