A way of empowering people, leaders, and change-makers through international alliances​
One of Anceu Coliving's aims is to create positive change in society by involving our long-term stayers and colivers in authentic and meaningful projects. Whether that is Circular Actions Initiatives, Rural Hackers, Healthy Co-Cooking, A home built by the people who co-live in it, or Artistic Photographic Project – Rural Revival, all of them are meant to build a strong community and match with the spirit of a slow lifestyle.
We love to create possibilities within the Anceu Coliving community to go and explore further than the coliving, to share their knowledge and build bridges. So this year, in collaboration with Ticket2Europe and the network from Arroelo Coworking Space from Pontevedra, we partnered up in a couple of Eramus+ projects that allowed our colivers to contribute to a greener, more inclusive, and fairer society, especially in line with the UN 2030 Sustainable development goals, that the Erasmus+ program is supporting through education, training, and volunteering.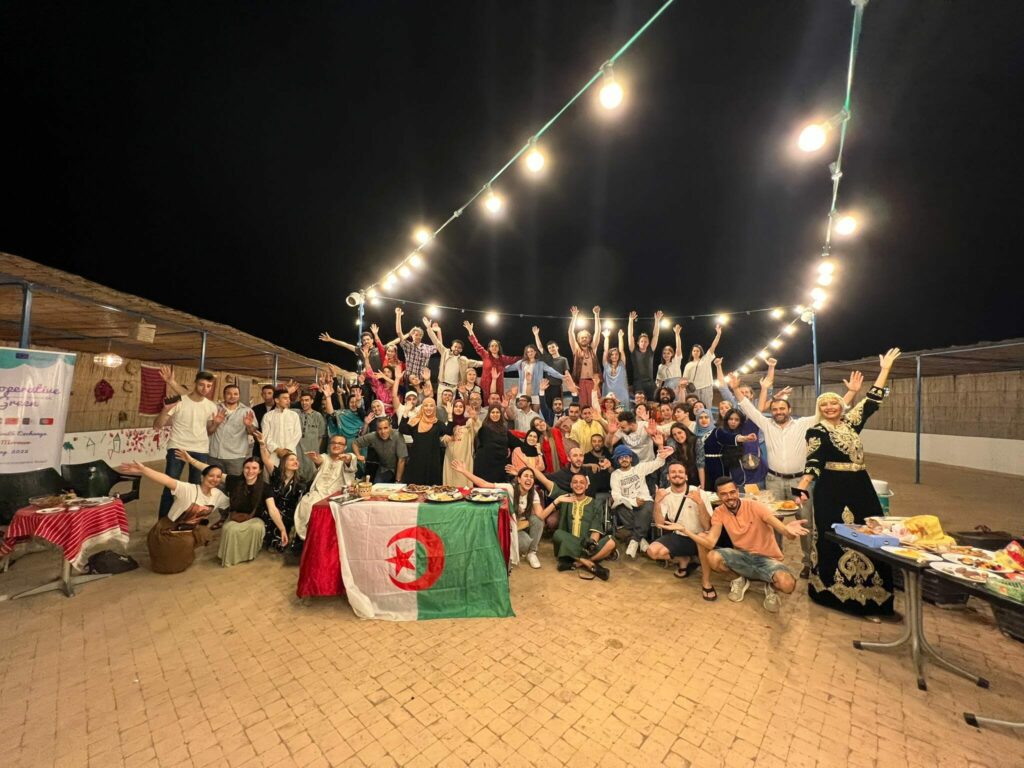 Anceu Coliving and Erasmus+ Projects – How did everything start?
Last year, Agustin and Africa participated in an event where they met Sebastian from the Swedish Institute and a couple of others from Migracode – European networks that promote the exchange of best practices between coding schools—made possible through online and transnational meetings sponsored by the European Union. All schools offer free tech education to youth refugees and migrants and support them with their job search. In line with this, they all share the same goals of labour integration and social inclusion.
This year, they invited Sebastian to Anceu Coliving to share more about his ideas and projects that he would like to develop and how we can contribute to the community living here. This is how we learned about his "Larache – Rich History and Promising Future" project.
He shared that the objective of this project is to achieve increased social inclusion of people in the Medina of Larache, Morocco, through several activities. All of that is to strengthen their active participation in society and empower change-makers and local organizations to be active in the community.
Using media and arts as tools to change the lives of the local community, he aims to introduce capacity-building workshops and knowledge exchange with local organizations and the community to create a more inclusive, sustainable, and safe community.
When we heard about this project, we tried to figure out immediately how we could get our community members involved through Erasmus+ projects.
The first exchange to Morocco, Larache, was made by our colivers – Andreea, Jules and Curro.​
The first Erasmus+ project started in May: GoCooperative and Green in Larache, Morocco. 36 participants from 6 countries were in this project, 3 of which were our colivers, Andreea, Jules, and Curro.
Of the 36 participants from 6 countries, 3 were our colivers. All of them with different skills and desires to contribute to this project. They have been in Larache for a week, creating their Cooperatives and inspiring each other on green solutions for the future while getting to know the city and its welcoming locals! In that week, our colivers were involved in workshops where they learned about:
Food/Waste-Management – Food/waste in Morocco reach 3 million tons of discarded food each year. Local people offer the waste to street animals to get rid of it. Also, what they did to help local people purchase the products in different stores to diversify money and boost small businesses.
Cleaning the forest – they did a workshop related to taking care of the environment, and they cleaned a nearby forest Larache (either nearby without Larache or close to Larache). Go Cooperative & Go Green participants promoted garbage collection that was joined by local people, and thanks to teamwork, several kilos of garbage were collected. Sensitizing people about this problem was one of the objectives of this initiative that had a significant impact on the environment and is expected to be the first step towards the right path.
Painting, construction, planting trees – one day, they spent the afternoon getting some fresh air on the roof of Zeljou with local kids while exploring new ways to create beautiful things with their hands. In groups, they participated in different activities: planting small potted plants, building a wooden sofa and birdhouse, and decorating the wall with paintings.
Accessibility – People with special needs were involved in this project. To spread awareness about accessibility and how to make life easier for them, they created a video about what a day in their lives looks like.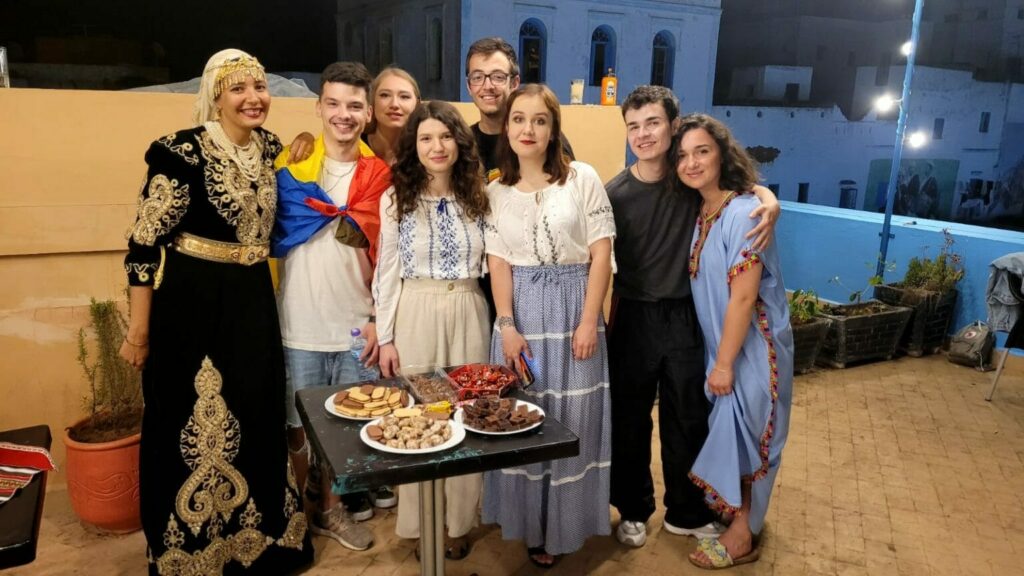 The second visit was made by our members and founder of Anceu coliving – Africa, Agustin and Nacho.​
Africa, Agustin and Nacho didn't come with an Erasmus Project this time. Still, they went there to understand better what the local situation is and to strengthen the bonds already created and bring the input of their knowledge in building alliances and creating new projects and ideas. This is how they discovered women entrepreneurs like @two_laraa and @jessica_elmal. They also met Mohamed, that told them the whole story of Morocco and Spain during the Spanish protectorate. Then they learned about the Entrerritmos festival, which has hosted over 200 artists worldwide for a week in the streets of Larache for over 10 years. They discovered that @zeljou.gallery is a creative space that each afternoon is filled with students and that this could be a source of creativity, art, and culture in the years to come. 
During their visit, they discovered that Anceu Coliving could be part of these initiatives that create bridges. From Galicia to the world, uniting people with shared values.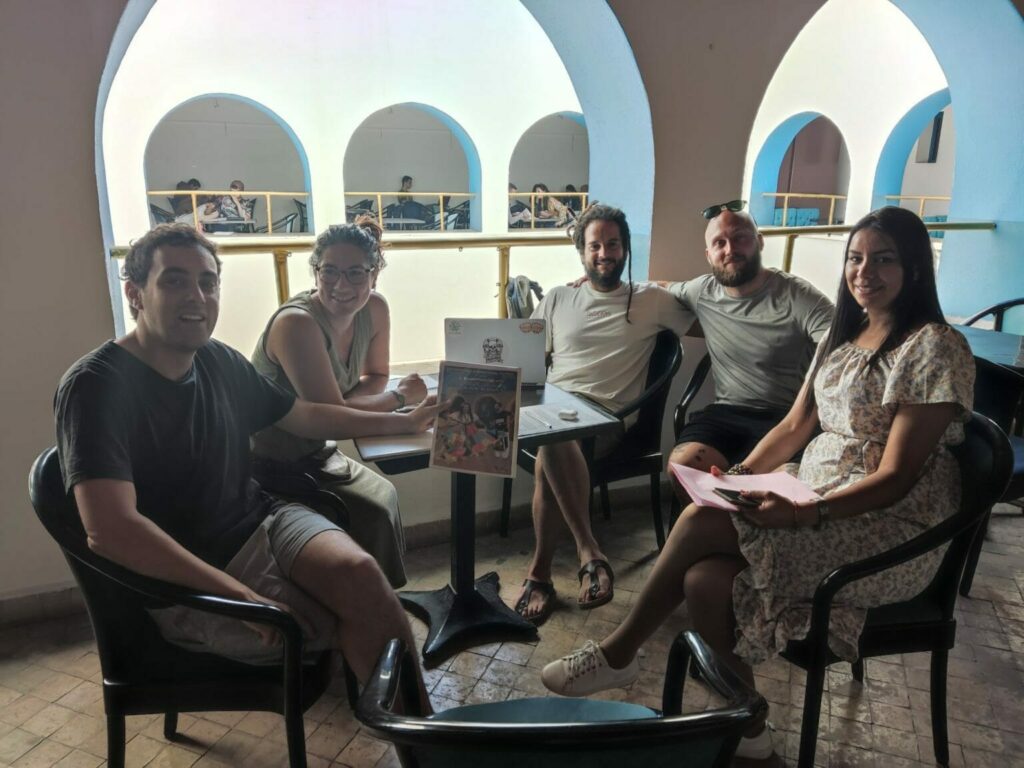 The third exchange was made by our colivers and Arroello coworkers – Maria, Patrick, Ana, and Elizabeth.​
This third visit to Morroco with the members of Anceu Coliving was similar to the one that Andreea, Curro, and Jules did, but this time instead of being part of an Erasmus+ project, they went with an Erasmus Training program. They've also been part of workshops meant to unify people from different cultural backgrounds by sharing the best practices, knowledge, and life experiences to advance quickly or better in a fairer society or bring new perspectives and solutions to problems.
They discovered that living together in communities is core to our values, and they came to Morocco hoping to learn how to live better among others. From the Moroccans, they've learned about patience, kindness, generosity, and keeping an open heart. They say, "If we live these values – with the incredible energy that the Moroccan hosts live them – this is the gateway to empathy and connection. Shukran, Morocco!! We'll never forget you."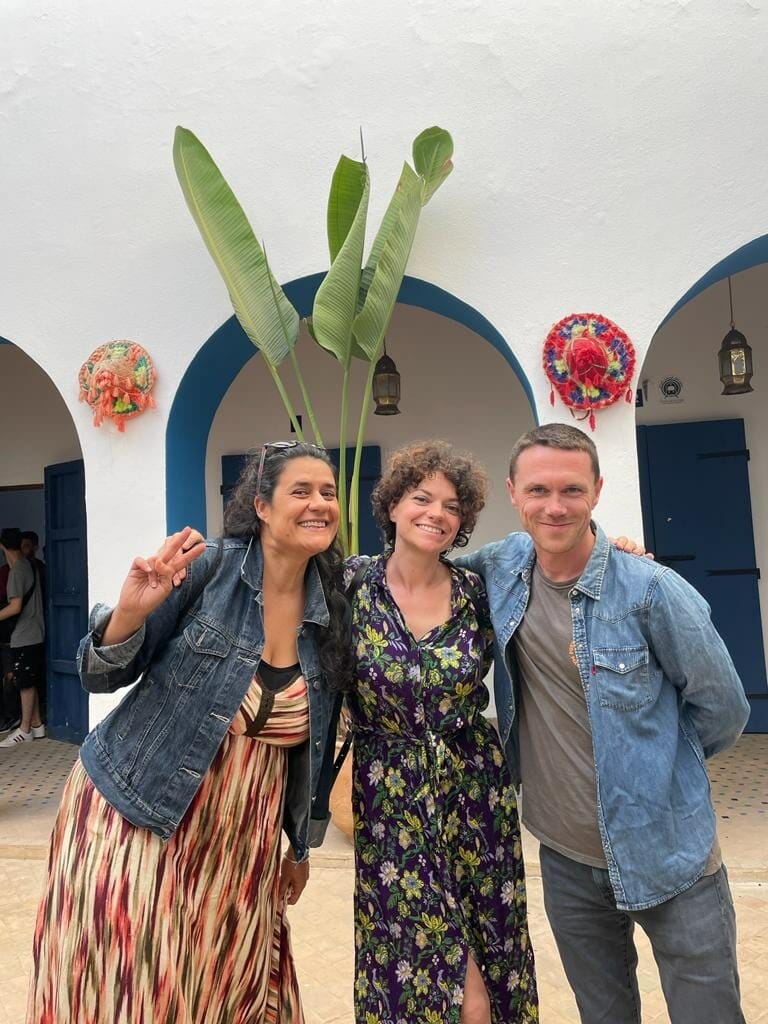 Future opportunities
This is just an example of how we at Anceu Coliving want to create positive change in society and how we want to involve our long-term stayers and colivers in authentic and meaningful projects. Always asking how we can ignite talents from within, encourage contribution, and knowledge sharing.
What's next? We have kept building the existing projects and alliances through these two years since we opened the doors to the world. For example, some Living Coliving will go to Sweden in September for a creative week to help Sebastian with the opening of his coliving. A week similar to the one in March in Romania with the opening of Cobana Coliving.
Read more about the creativity that is about to come here.
Till next time, leave us a reply, and reach out to us on our social networks. Keep in touch.