Welcome to See you "At Home" – The Evolution article where you will understand why Anceu is a home.
"At home" is built by the people who co-live in it, and last year, we had the great idea to give Anceu an honest soul which vibrates therefore, we invited different artists to stay at our place, and we offered them to decorate one room each, giving them total freedom with the goal that the artists express what they thought about Anceu in their way and that Anceu would eventually become a kind of art and culture centre.
See you "At Home" – The Evolution we developed in the past year
WATER IS MORE IMPORTANT THAN GOLD – By Lucia Sibila​
Inspired by the late winter rains (after an oddly dry season), these enlarged raindrops summon the power of water, wherein a region that is well known for its wet climate and green landscapes, this element can be quickly taken for granted.
Worldwide it's becoming more and more urgent to protect natural resources. Lucía borrowed the motto "El agua vale más que el oro" (in English, "water is more important than gold") used by the Argentinian activists that defend their local rivers, lakes and environment from minery, pollution and massive exploitation.
Her intervention aims to honour this ordinary and essential phenomenon by mirroring what happens outside the room, in the wild surroundings that host us. The mural can even be considered a depiction of the sounds perceived on the roof. The soundtrack will match the image from time to time, and the "water room" will come to life.
Discover Lucia's story
Lucía Sibila Pujadas Regueiro is an Argentinian visual artist with roots in Galicia. She has technical training in illustration and muralism (Polivalente de Arte de San Isidro, Arg.), a Bachelor's degree in Visual Arts from the UNA (Universidad Nacional de las Artes, Arg.), and a Master's degree in Art Direction for Advertising (Universidad de Vigo, Spain)
In 2015 she participated in the international residency for artists in No Lugar (Quito, Ecuador). Then, from 2016 to 2019, she integrated the art collective Anuario de Ilustradores, based in Buenos Aires, and contributed to making different murals in Centro Cultural Recoleta. She had also been part of an independent theatre company for almost ten years, where she developed projects as a performer and artistic director. In the last three years, she's been living in Europe, dedicated to freelance design and illustration commissions.
Due to her broad interest in different media, she constantly explores materials, resources, and languages, particularly concerning recycling. Her primary motivation is to arouse reflection and sensitivity through her art and contribute to the deceleration of our fast-paced modern world.
Here you can check her Instagram account: https://www.instagram.com/sibila.art/.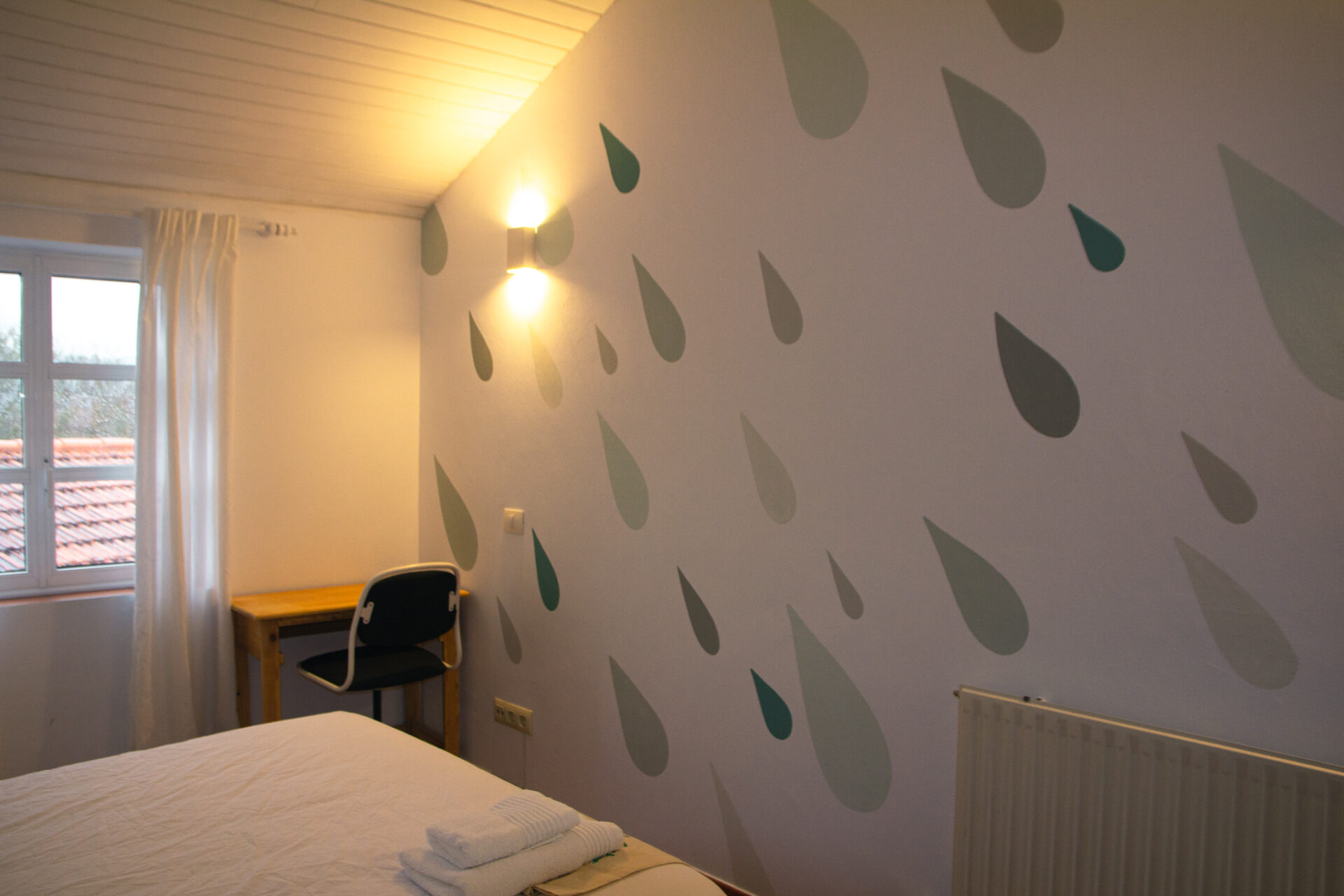 THE HOLY CUP – By Alba Troiteiro​
Alba is a plastic artist based in Galicia, graduated in Fine Arts and specialized in artistic research and creation.
She likes to work taking images of a particular universe. It has a feminine voice and is a cry for human passion and self-discovery. Her pieces are elaborated with processes where handcraft has a strong imprint, and she also enjoys playing with space to intervene to expand her creations.
This piece is part of a series called Flying Carpet. Inspired by the traditional Galician women's costume, Alba created designs as conceptual maps showing poetic and vindicative scenes.
Technique: painting, drawing, silk-screen printing and handmade stamp carving.
Check her page here: http://albatroiteiro.com/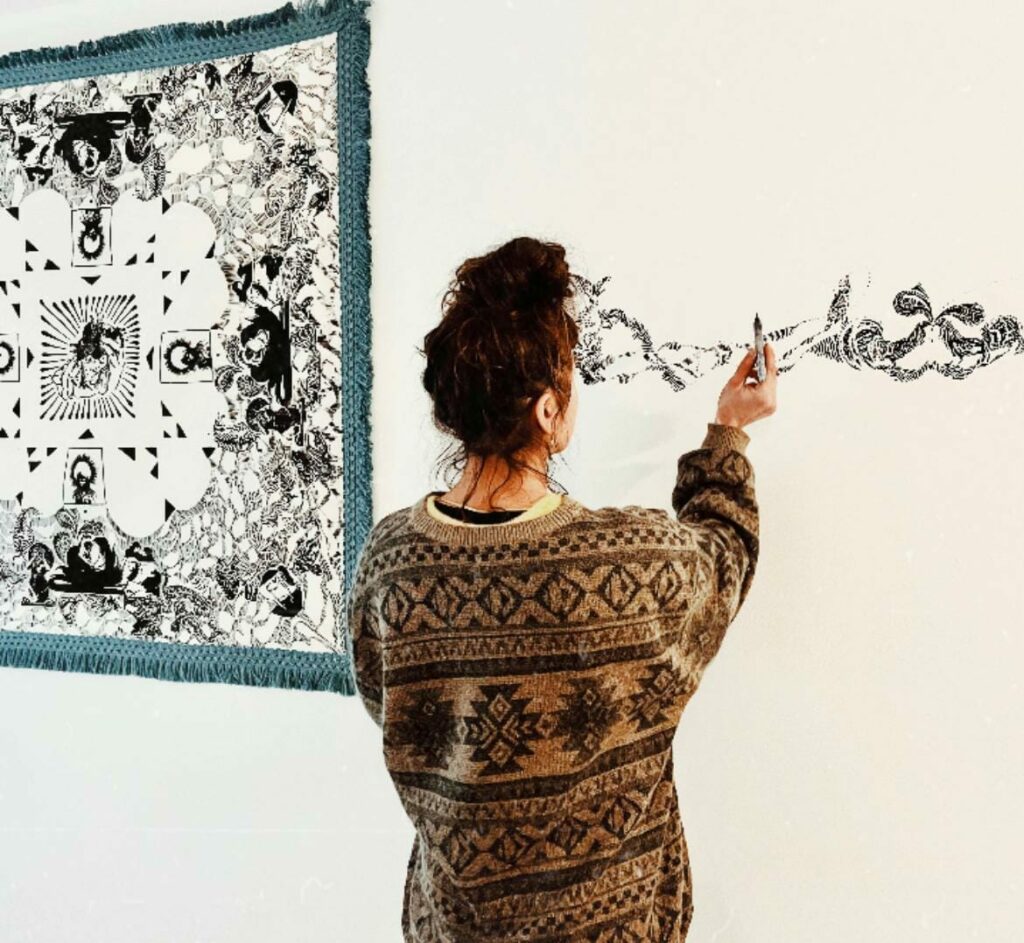 UPCYCLING THE PAST – By Lidya​
Maow Design is Lydia; there is no better way to define it.
It was a project that has been evolving since it was born in 2012, combining architecture, design, and beautiful things in her shop workshop. Its mission is to help create homes that tell stories and make those living in them happily.
Recovering old furniture and giving it a new life is her philosophy to create a sustainable interior design, take advantage of resources and reduce waste. In "Upcycling the past", she has transformed existing pieces using natural materials and recovered objects.
As decorative elements, old wooden frames have been recovered. Old German wine boxes serve as bedside tables and shoe racks. One lamp has been created from an antique wrought iron bracket. The new coat rack is an old closet door. The desk is no longer the protagonist, transformed into an extension of the window.
The closure has been visually reduced. It incorporates its mouldings as part of the entrance decoration.
Check her page here: MAOW studio&shop • Lydia: https://www.instagram.com/maowdesign/?hl=en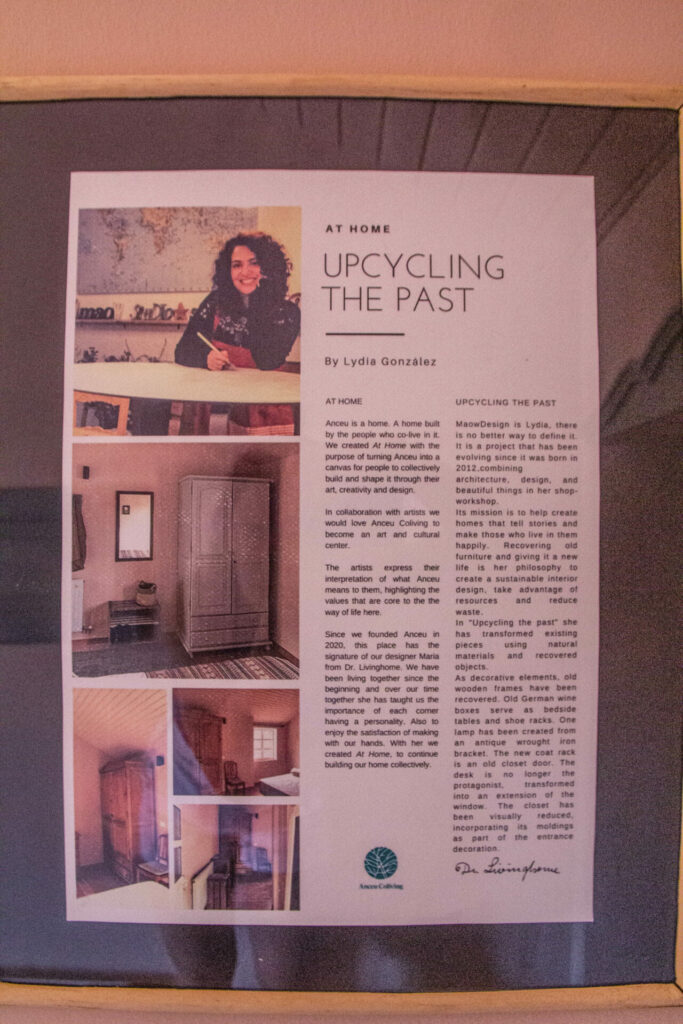 TRAVELLING PERFORMANCE – By Haya and Zorina​
Travelling Performance was a remote exchange between Haya Blanco and Zorina Zon.
Haya Blanco is a Spanish painter from Santiago de Compostela.
Zorina Don is a fashion designer from Moldova. We would love Anceu Coliving to become an art and cultural centre in collaboration with artists.
Together, they developed online creative sessions of the concept they wanted to show, and finally, they decided to show the negative impact on the fashion and design production environment.
The artists express their interpretation of what Anceu means to them, highlighting the values that are core to the way of life here.
Firstly, Haya did her painting intervention on the wall of Anceu Coliving and also a piece of cloth. Then, the work of art was sent to Moldova.
There, Zorina created the fashion collection, including Haya's inspiration.
Check their pages here:
Haya Blanco: https://www.instagram.com/hayablanco/?hl=en
Zorina Don: https://www.instagram.com/zorinadon/?hl=en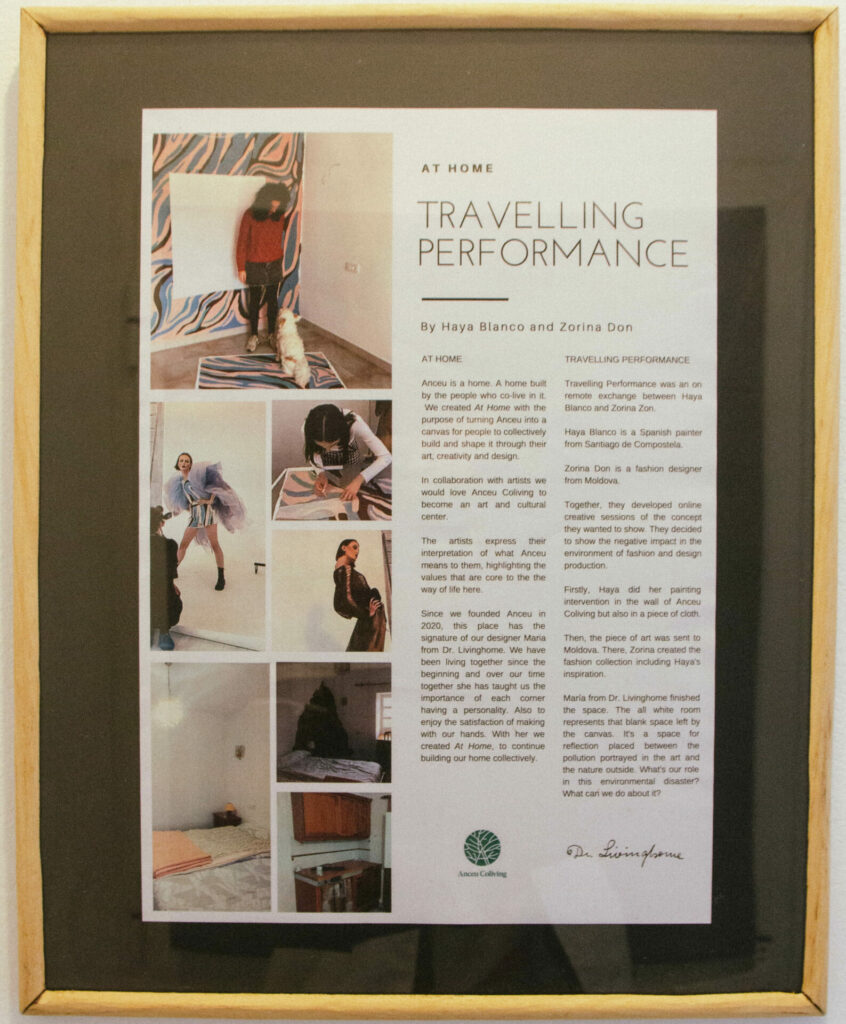 GALICIAN PLANT WORLD – By Elara Elvira
Elara Elvira is interested in studying the interactions of human beings with Nature.
Focusing on ethnobotany and folklore, she carries out projects that question our relationship with the plant world from a feminist and environmentalist perspective.
She studied Fine Arts at the University of Barcelona, and in 2011, she was selected for the "Culture" residency in Berlin; in 2013, she moved to Nantes to be an artist in residence at the "Maison Quartier Madeleine".
She founded FURRR Studio in Barcelona in 2018, a self-managed workshop where she carried out collaborative projects with other artists. For example, in her mural, you can find the interpretation of several Galician plants.
The decoration from Dr Livinghome is there to accompany the striking mural (the absolute star of the room). All the furniture was already in Anceu. We transformed it to fit the new modem style of the room.
Elara Elvira: https://www.instagram.com/elaraelvira/?hl=en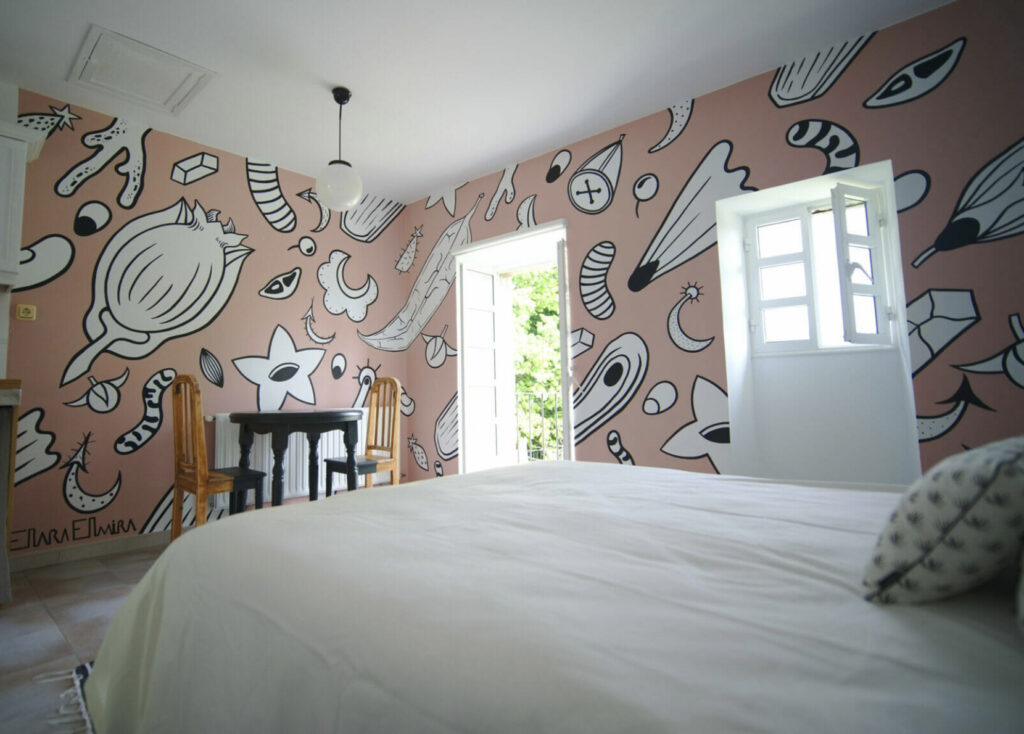 Extended Garden – By Elizabeth Hillerut​
Behind Zengoala, you'll find Elisabet, a passionate Zentangle teacher eager to help people to introduce creativity into their lives.
The Zentangle method is easy to learn. It allows everyone to find their inner artist using a step-by-step path.
As we believe there are no mistakes, this creates moments and space without criticism or judgments. It is just pure joy to express our most creative spirit and experience its liberating benefits. Apart from Zentangle, Elisabet loves Nature.
Therefore it's easy to find her artwork influenced by this great source of inspiration. In the "Extended garden", she wants to bring the beautiful surroundings in Anceu into the room, using organic patterns and harmonious colours.
It's always abstract, but you can hopefully feel the peace and beauty nature offers us watching the walls.
Check Elisabet Hillerud #zengoala here: https://www.instagram.com/zengoala/?hl=en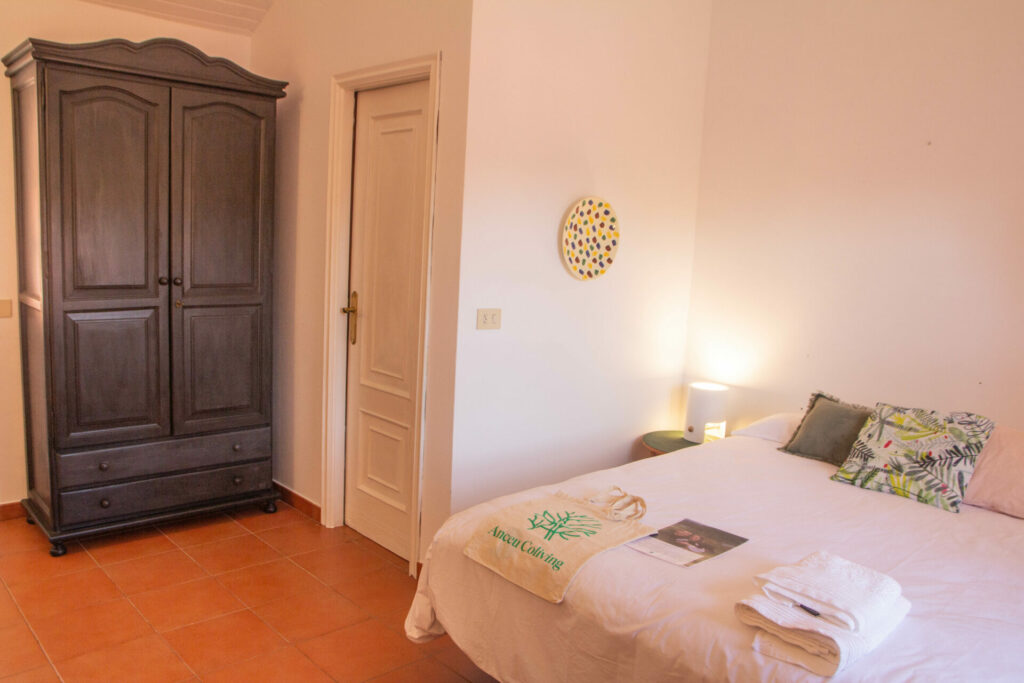 It's still available See you "At Home" – The Evolution?
Yes! And people who are in the art sector, like painters, designers, architects, artisans, etc., can join.
This project starts with women as protagonists because, yes, we are a feminist space.
How to do it?​
Come, get to know the space. Visit our Home and get inspired. Pick the area you want to get involved in.
Based on your idea, At home team (Anceu Team and Maria Dr Living Home) will help you execute it.
What's in it for me?​
At Home offers you the possibility of: Enjoy one free one-week stay per year to live in your Home.
Make Anceu your free coworking space for a year. Increase your visibility in our social networks and our space. Meet people from the Anceu community. Please participate in our art and creativity meetings in Anceu when all this happens.
At Home's team​
Since we founded Anceu in 2020, this place has had the imprint of our designer Maria from Dr Livinghome. We have been living together ever since. She has taught us the importance of each corner having a personality. Also, to enjoy the satisfaction of making things with our hands. With her we created "At Home" to continue building our home collectively.
Contact us at: hello@anceu.com.