Ciclo da Auga – The Water Cycle: An Artistic Community Building Event in Anceu Village
This summer, Anceu Coliving organized a three-day artistic project called Ciclo da Auga, or The Water Cycle, to bring awareness to the importance of water usage in Galicia and to celebrate and honour the care for natural resources in Anceu Village.
The local community manages water resources in Anceu Village, and we wanted to show appreciation for their efforts to preserve and protect this vital resource.
Ciclo da Auga – The Water Cycle
The project's centrepiece was transforming the local water tank into a stunning mural designed by mural artist @cuco_cuco_cuco_cuco. The mural was brought to life with the help of over 50 people from the village. The initiative was made possible thanks to the partnership between Cuco and Arroelo coworking space from Pontevedra and our partners Galicia Pultec, @pinturas.armenteros, @duracolor, Ponte Caldelas local government.
The painting of the mural was an excellent opportunity for the Anceu Coliving team to connect with members of the local community and to create a bond with people from the village that we hadn't had the chance to meet yet. The response from the community was overwhelmingly positive, with people of all ages coming together to lend a hand and contribute to the project. It was a beautiful thing to see how the Anceu Coliving community bonded with the Anceu village community through this shared experience.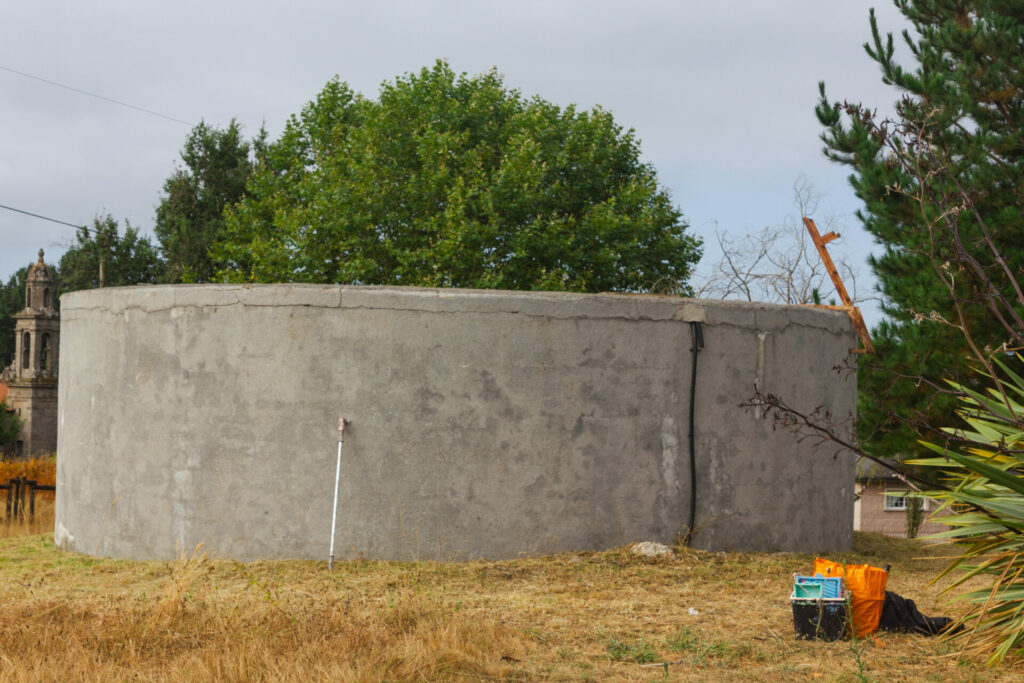 Food is the best part of the party
On the event's final day, everyone gathered at the mural to celebrate the completion of the project. It was a beautiful sight to see the water tank transformed into a work of art, and everyone was proud to have played a part in its creation.
To mark the occasion, everyone cooked something and brought it to the party, creating a potluck feast for all to enjoy. There was a wide variety of dishes to suit every taste.
To keep the party going, we had a DJ – Natalia, and everyone was dancing and having a great time. It was a truly special event that brought the community together and celebrated the importance of water in our lives.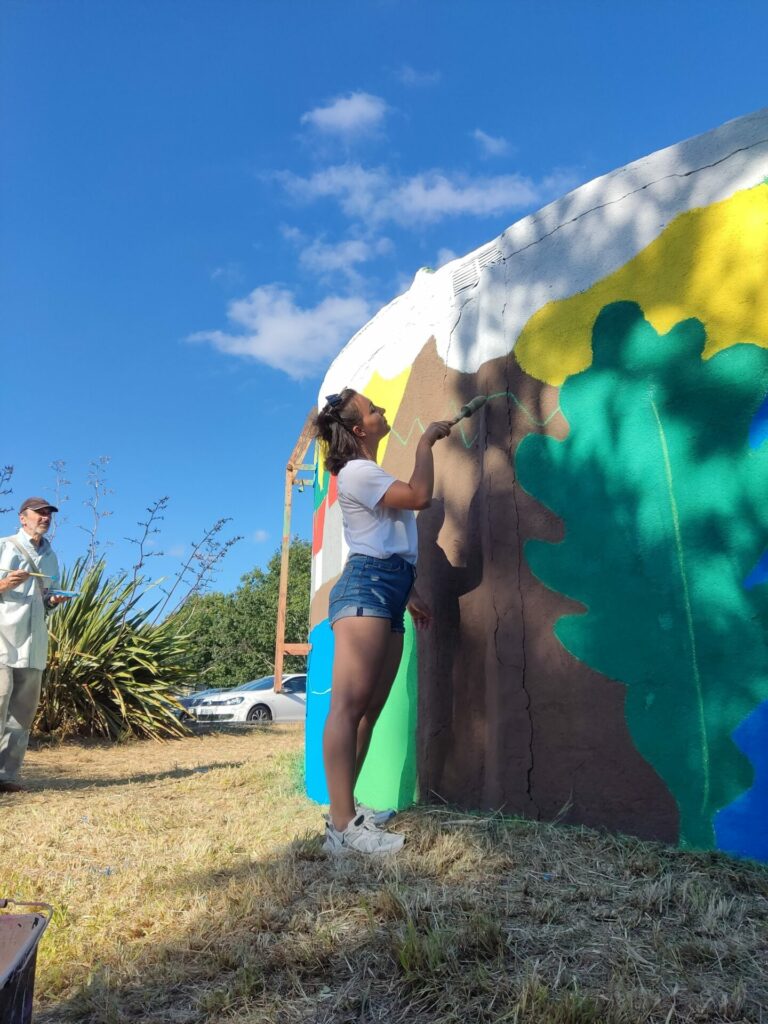 How has this project impacted us?
At Anceu Coliving, we believe in creating a positive impact on the local community, fostering sustainability, promoting knowledge exchange, and improving people's lives. These values guide everything we do and are at the heart of our mission to build a home of talent balanced by nature and based on imperfection. We are always looking for ways to learn from others and help each other grow, and we believe in the importance of taking the time to live and evolve together in calmness and harmony.
The Ciclo da Auga project was an example of these values in action. Not only did it bring awareness to the importance of water usage and celebrate the care for natural resources in Anceu Village, but it also brought the community together and fostered a sense of connection and togetherness.
We are grateful to everyone who participated in Ciclo da agua and helped to make it such a success, including the mural artist @cuco_cuco_cuco_cuco and the team at @arroelo coworking space, as well as Pepe, Rosabel, Casiano, Emilia, Pedro, Sara, Carlos, Guillermo, Kate, Ignacio, Dulce, Olga, Rogelio, Miguel, and all of the other unique and super active members of the community who joined us to paint the wall.
Together, we can create a positive and sustainable future for all. Events like Ciclo da Agua remind us of the power of community and the importance of coming together to make a difference.
See how the vibe was during the project in this video
Are you interested in being part of an exciting community-building event like Ciclo da agua? Anceu Coliving is always looking for ways to connect with and contribute to the local community, and we would love for you to be a part of it.
If you want to be part of the Anceu Coliving community in 2023, there are a few ways you can get involved:
Follow us on social media: We regularly post updates about our events and activities on Instagram and Facebook. Follow us to stay up to date and get involved.
Contact us: If you have an idea for an event or project that you would like to be a part of, or if you want to learn more about Anceu Coliving, don't hesitate to reach out. We would love to hear from you and see how you can get involved.
We can't wait to welcome you to the Anceu Coliving community and share in the exciting projects and events we have planned for the future.